SocialWest 2023 tickets are already over 98% Sold Out!
SocialWest is a one-of-a-kind event designed to help marketers refine their digital strategies and develop skills that will help push brands and channels even further. With 25+ speakers, dozens of sessions and hands-on learning, this is an invaluable experience for anyone who wants to elevate their digital marketing skills.
Focusing on digital marketing, SocialWest brings together innovative minds to teach and inspire. Learn the strategies behind successful campaigns, network with those who are doing it right now and roll out new strategies for your business or clients.
We're excited to put on a conference that is dynamic, safe, entertaining, and most importantly, educational.

Final Tickets Available Now
What to
Expect
2.5 days of 40+ exceptional speaker sessions
A variety of dynamic speaker experiences.
3 evenings of networking and community-building
Big screen presentation experience with comfortable seating.
Meet Our 2023 Speakers
Our presenters have completed the necessary tasks — including budgeting, strategizing, management, and reporting — to understand the requirements for constructing a successful social media and digital marketing strategy. It's their experience, enthusiasm, and dedication to advancing the Canadian digital marketing industry that distinguishes SocialWest speakers from the rest.
SocialWest 2023 will features 25+ expert speakers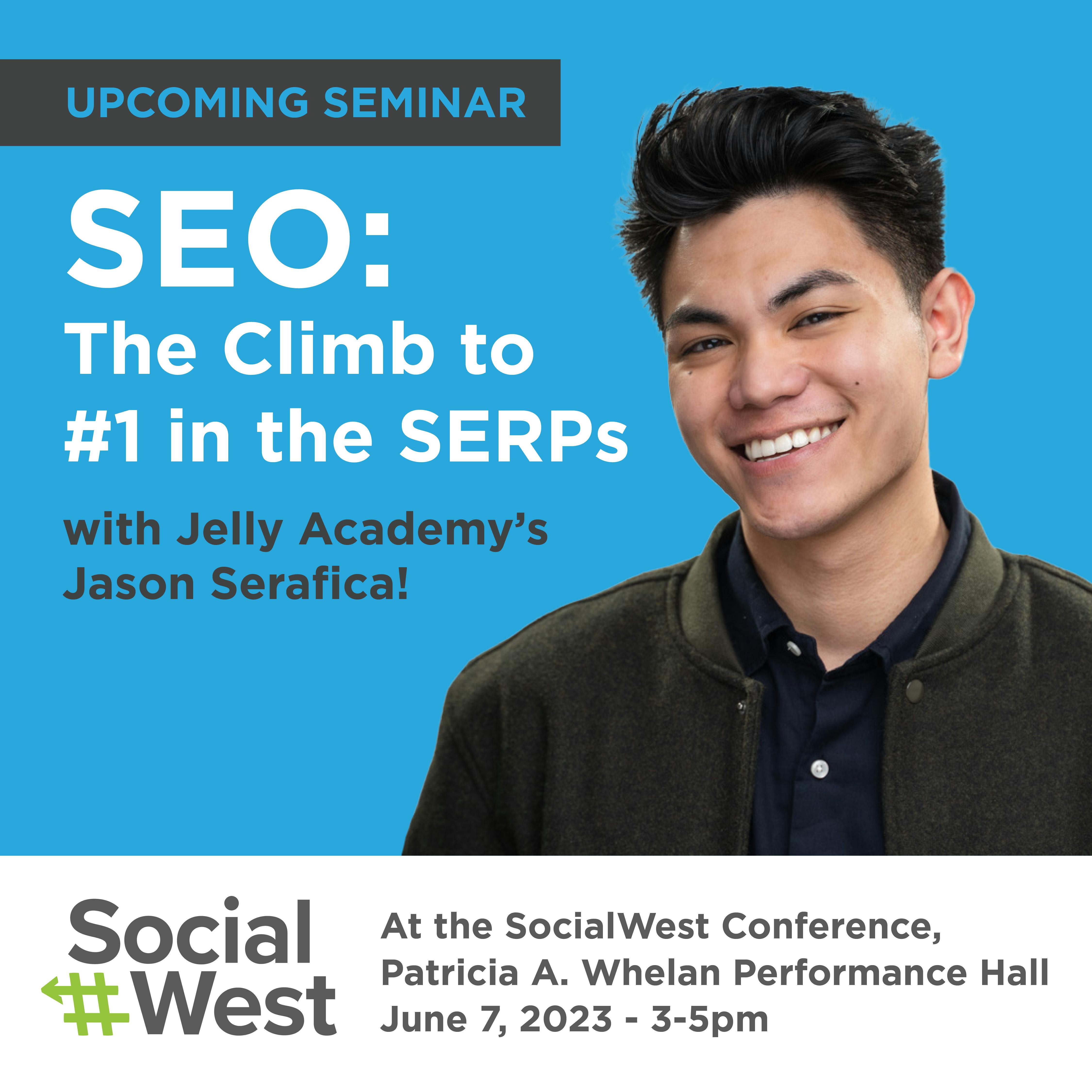 Join Us For A Pre-Conference Workshop
SEO: The Climb to #1 in the SERPs
This special workshop is open to both SocialWest attendees, and folks who only want to attend this session.
Don't miss out on the opportunity to boost your business's Google search results! Join Jelly Academy SEO Instructor and Jelly Marketing SEO Specialist, Jason Serafica, as he guides you through the essential steps to improve your rankings on Google's SERP. This session offers valuable insights, including a live SEO audit for a participating business's website, prioritization techniques, effective SEO tactics, and essential tools to stay ahead in the SEO landscape of 2023. Discover how off-site content and social media can impact SEO, and learn actionable tactics to implement. Gain a comprehensive understanding of SEO through a hands-on demonstration, providing you with the roadmap you need. Secure your ticket now for $75+tax and take your business's online visibility to new heights!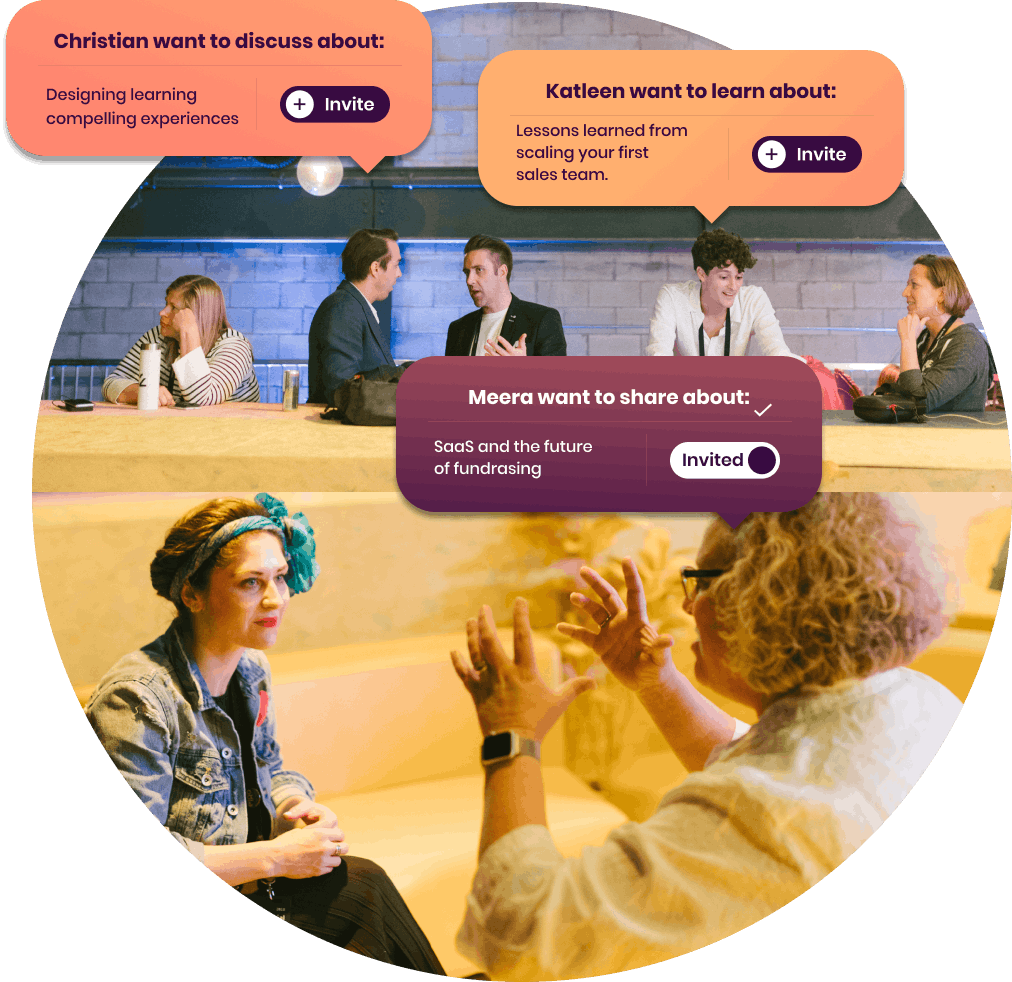 New networking experience - Braindate! 
At SocialWest, you rub shoulders with the greatest leaders in digital marketing. You can learn as much from the people sitting next to you than the speaker on stage. What if you could pick everyone's minds? It all starts with a braindate.
This year, we make it easy for you to tap into the experiences and expertise of everyone in attendance. The spotlight is all yours! Braindates are knowledge-sharing conversations that you book with others to have one-on-one or in small groups on-site in the Braindate Lounge.
They're the best way to brainstorm, solve challenges, share expertise or experiences, while connecting with new (brilliant!) people.  
Get ready! Create your own topics, book 1:1 meetings and join group conversations to meet and learn from the people around you at SocialWest.
Who Should
Attend
The SocialWest Conference is the only conference you need to attend to understand, adopt, and succeed with content marketing, social media, one-to-one customer service, and digital advertising.
Get Your Tickets Now!
Social Media Managers
Communications & Marketing Professionals
Digital Marketers
Public Relations Practitioners
CMOs, VPs of Marketing, and Other Marketing Leaders
Small Business Operators
Communications Students
Content Managers
Self-represented professionals & artists
Photographers, videographers, technicians and artists who want to provide services to social media marketers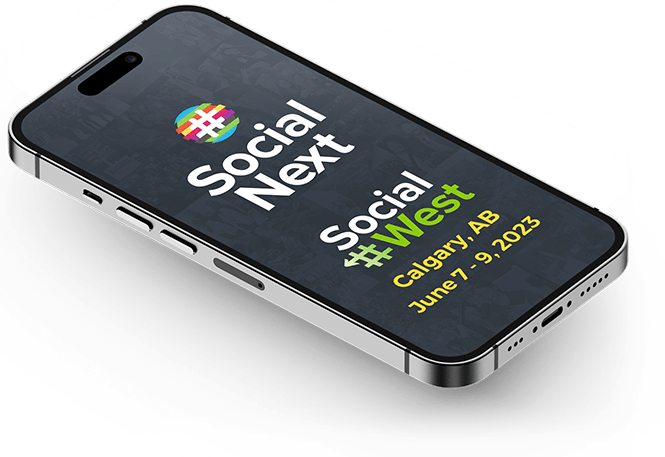 Get the
SocialWest App
The SocialWest 2023 app is now available. Attendees can Use the app to view the full schedule, learn about all 40+ speakers, and join the discussion. Please reach out to SocialWest organizers to gain access.
Join Our
Email List
Sign up to receive occasional updates about SocialWest, and receive notifications about ticket sales and speaker announcements.
Join the list
Get
Involved!
Interested in speaking, sponsoring or volunteering at SocialWest 2023? Send us a note!
Get in Touch
A look at previous
conferences: